Posted on June 10th, 2011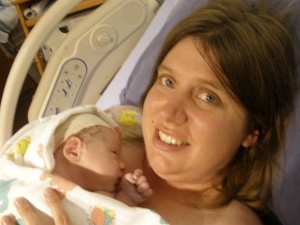 Our little one, Alexander Theodore, arrived on 6/9/11 at 11:57am.  He has a full head of hair, weighed in at 7lbs, 5ozs, and measured at 19 inches.
Those local to Rochester are welcome to visit us today at OMC Hospital, in room 274.  Please make sure to knock in case Alex is eating so we can make sure he and Mom are ready to see you.
I've included our favorite picture so far of Mom and Alex.  Thanks everyone for your good wishes!
5 responses to "Alexander Theodore Kalmbach has arrived!"
---