Posted on December 21st, 2013
I really enjoy being a dad.
As I was preparing to give Alex his bath last night, he stared out the window at one of the neighbor's houses. "Lights out there, Dad! Lights!"
"Yep, you're right," I said. "They're pretty, aren't they?"
"Yeah, lights!"
I paused a moment so I could change the subject. "Come on, bud. Time for bath!"
I was tired. It's been a long week–late nights, early mornings, the stress of trying to finish things at work before a long vacation. I was already in sweat pants, looking forward to maybe watching a movie before heading to bed myself.
I went to the bathroom to start the water. He padded along behind me, but then darted to his room. As I reached for the faucet, he came back with some outdoor clothes.
"Lights?" His voice trembled, realizing that we were about to do the normal routine, and that meant he'd soon be in bed. I could tell he was about to cry.
As a parent, I prefer to maintain routines. It's good for kids to know what to expect each day, and this works for us–I rarely need to discipline him (other than the occasional playing too rough with his brother or the cats). On the other hand, I'm very mindful of helping my kids develop their independence. I want them to feel like their opinion matters.
I took my hand off the faucet. "You know, Alex, you're right. Let's break the rules and go look at some lights."
We spent a half hour driving around our town, looking at all the lit-up houses. We talked constantly, pointing out the colors and the stars and the snow men. Alex had a blast (I did too), and when we got home, he went to bed without complaint. Even though I was still exhausted from the stress of the week, that half hour helped melt that stress away.
Sometimes we get so stuck in our routines that we forget to stop and admire the lights. I hope you take the time to break the rules with your family this holiday. Or on a random Monday.
Our time here is short, and knowing when to give in on something small can make a huge difference to a little boy. And his dad.
Enjoy life. It matters.
---
Posted on October 23rd, 2013
If you haven't visited recently, you may see that my site layout has changed. Unfortunately, my personal website was hacked and populated with ads for certain little blue pills and other enhancement drugs. This required several hours of attempting to remove the embedded code before I finally decided to start over with a fresh install. Luckily, all of my data is regularly backed up, so all of the posts remain intact.
I'm taking advantage of the situation to create a custom theme for the site. It's likely you'll see lots of changes over the next few days, so please bear with me. Thanks in advance!
If you're looking for information about the Rochester Writing Group, please email me at [email protected]. Thanks!
---
Posted on January 18th, 2013
Big news! The Caldarian Conflict was selected for the Coffee & Books program at Dunn Brothers (currently there are only around 20 books in the program). Read on for a coupon promo!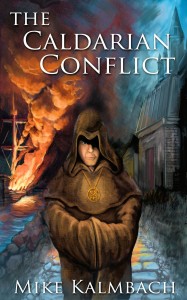 This is a very big deal–the top four books each quarter are displayed in all Dunn Bros locations. This could help The Caldarian Conflict find hundreds of new readers.
Why is this so important?
There's very little competition right now in the program, which helps increase my visibility
As a participating author, it's relatively easy for me to get in for readings and signing events.
Buying books gets you free coffee. What better deal is there than that?
To celebrate the inclusion of The Caldarian Conflict in the Coffee & Books program, I'm running a promo. The first 50 people to buy The Caldarian Conflict ebook will receive 20% off the book! Just use the coupon code "pirate" when you check out (without the quotes). Remember, this is only good for the first 50 customers!
Share this with your friends. The more people who buy The Caldarian Conflict, the better my chances are of the book arriving in the store!
Thanks everyone!
---
Posted on March 18th, 2012
My next book, Writing Advice for Teens: Creating Stories, is now available for preorder from Amazon. I'm pretty excited!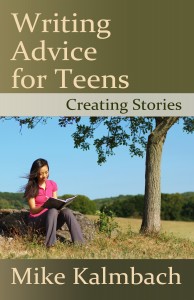 This book is the first in a series of non-fiction books designed to help teen writers through all the stages of writing, from creating stories to writing as a career. It's great for new writers of all ages, and is organized into an easy-to-read format with plenty of examples and exercises.
As well as accepting preorders through Amazon, I'm also looking for early reviewers who will read the book and write a review in time for its April 24 launch. Readers will receive a free PDF of the book, and as might be obvious, should not distribute the file to anyone else. Simply comment on this blog post, post a message on my Facebook Author page, or send me a tweet via Twitter (@mikekalmbach).
If you're on Goodreads, take a moment to add Writing Advice for Teens: Creating Stories to your to-read list.
Thanks for helping get a new book off the ground!
---
Posted on October 29th, 2011
In celebration of my favorite holiday, I'm offering a coupon for a free ebook of The Caldarian Conflict.
Use coupon code FG33N at https://www.smashwords.com/books/view/84747 to download your copy for free.
Happy Halloween!
---
Posted on October 5th, 2011
Did you just read an awesome indie book? Are you looking for ways to help the author out?
You've come to the right place.
What follows are several methods to help an indie author out.  This includes:
Buying the book (first for yourself, then as gifts for friends)
Telling your friends (and posting reviews)
Tagging the book to make it easier for people to find
While (perhaps obviously), I'm targeting this to my own fans, these strategies are general enough for any indie author. I'd expect the actual dollar values should be consistent for most indie authors as well.
Buy the book
Of course, the first and best way is to buy a copy of the author's book.  However, where you buy it is as important as your actual purchase.
Paperbacks:
Since I published through CreateSpace, I earn the most when people buy direct from them (about $4.50 per book from my $10.95 book).  Amazon falls in at a respectable $2.94.  However, when someone buys a copy from Barnes and Noble, I earn only $0.25 per book.
Buying the book as a gift is an excellent way to thank an author. That's part of the reason I offer signed copies through my site (check the right-hand panel)–it's an opportunity for fans to purchase a unique gift for themselves or their friends.  Since I include a free ebook with autographed paperbacks purchased through my site, you can buy a paperback as a gift and keep the ebook for yourself.
Giving the book as a gift offers you the opportunity to talk with others about the book, which helps get the word out for an indie author.
Ebooks:
As an indie author, Smashwords gives me the best return: about $2.21 per book.  Amazon is second, at about $2.03 a book, and Barnes and Noble gives me $1.94 per book.  Besides offering the best return, Smashwords also lets me run coupons as needed.  If I want to give a free copy to a book reviewer, all I have to do is generate a code and pass it along.
Lending an ebook to a friend also helps spread the word about a good book, so take advantage of this opportunity.  Which leads us to the next point:
Tell your friends
Think about the last book you bought.  Why did you buy it?
Chances are pretty good that it's because a friend recommended it.
Word of mouth advertising is awesome.  If you can't stop raving about the plot twists in The Caldarian Conflict, (as a completely random and unbiased example), people take notice.
If you're part of a book group, suggest that the group read a book by the indie author.  Note: only do this if you'd give the book a 4- or 5-star review.  And make sure the book is free of typos.  When the average reader spots typo after typo, the book probably wasn't ready to be released.
Did I just mention reviews?
That's another great way to help out an indie author.  Thoughtful reviews are more important than 5-star reviews (though as an indie author, I always love to receive a 5-star review).  That said, when someone checks out a book's rating on Amazon, they're more likely to purchase a book that has several thoughtful reviews than several that say: "This book is teh best!!!" (typo intentional)
When reviewing, do explain what you liked and who might be most likely to enjoy the book.  Try to avoid spoilers where possible.  Post it everywhere the book is sold, and especially on reader communities like Goodreads or LibraryThing.
Once you've written a review, tell people on Facebook and Twitter about the book.  When they know you wrote the review, your friends or followers are more likely to at least look at the book to see whether it's a good match.
While we're talking about Facebook and Twitter, definitely become a fan of the author and follow their tweets.  When you see something interesting from the author, pass it along to your friends so the author can grow followers and potentially connect with other readers.
Tag the book
What is tagging?
Tagging is a method of adding keywords to a book so that it shows up in search results.  The more people that agree with a particular tag, the higher the placement of the book in the search results.
Tags can usually be found on a product's Amazon page.  Other sites use tagging sometimes, but Amazon is the most widely used.  Simply search for "tag" on the page, and you should find it.
If there's nothing there, add tags related to the book.  For example, some of the tags currently used for The Caldarian Conflict include pirates, monks, and corrupt government. If you have read the book, select the check box for those you agree with.  If you happen to think of others that aren't listed, definitely add them.  The author will certainly appreciate it when others find (and hopefully purchase) their book.
If you've already read my book, please go to the Amazon page and help me out with a review and adding some tags.  I'd really appreciate it.
What other ways can you think of to help an indie author out?  What did I miss?
---
Posted on October 1st, 2011
This is my first monthly report on how sales are going for my book.  Eventually I'll include multiple books as I release them.
Why release my numbers publicly?
By sharing this publicly, I hope it helps other indie authors set expectations, plus it helps me maintain a monthly record of what I've done and what the results were.
—–
Book Title: The Caldarian Conflict (preview)
Current Rating: 4.5 stars with six reviews on Amazon
Pricing: $2.99 ebook, $10.95 paperback
Favorite quote from a review: "I was literally up all night because I couldn't stop reading (if there are any typos in this review blame them on my blurry vision)." – Maxine McLister (Amazon)
This month's goal: 100 books sold (ebook & physical)
Total sales: 124 books sold – 50 ebooks and 74 paperbacks
Promotional copies: 41 ebooks + 12 paperbacks (not included in sales)
—–

I'm pretty pleased with the results.  Exceeding my goal for first month's sales is pretty awesome–especially since I had no measurements to guide my estimate.
My biggest surprise? That physical books outsold the ebooks this month.  With everything I've read, and the lower price point on the ebooks, I expected ebooks to far exceed paperbacks.
That said, it's probably a result of the heavy marketing I did.  The single biggest day of sales was 43 paperbacks at my launch party.
At this point, I think it's most effective for me to allow people time to read the book and (hopefully) write reviews.  With the exception of occasional tweets and Facebook posts, I plan to focus most of my spare time on writing additional material.
I'm also planning to point out that signed copies of The Caldarian Conflict make a great unique gift for fantasy fans. (hint hint: check the right-hand panel for ordering autographed copies, or buy from Amazon, Barnes and Noble, CreateSpace, or Smashwords)
In October, I plan to invest a lot of time working on my next two projects.  With luck, I'll finish the first draft of at least one of them by year-end.
Next month's goal: 50 books (ebook & physical), due to spending much less time marketing
What do you think?  Should I continue focusing on writing more material? Or are there other marketing avenues that I should pursue?
---
Posted on September 2nd, 2011
Yesterday, I received the first fan-generated art for my novel from Joan Sween.  I think it's a pretty cool concept, and would love to hear from other fans who want to submit pictures.  I'm flattered that someone would take time to create art for my novel and share it with me.
---
Posted on September 1st, 2011
Wanted to share my latest press release with all of you: My novel is now available!
For Immediate Release:
Just in time for International Talk Like a Pirate Day (September 19), author Mike Kalmbach has released his debut fantasy novel, "The Caldarian Conflict" (ISBN:978-1466246812).
This isn't your typical pirate novel. Of course, there's plenty of swashbuckling adventure as a corrupt military deals death to enraged pirates using questionable methods. However, this story follows Brother Mendell,a monk caught in the crossfire as he seeks justice for an unfairly executed prisoner.
No one is safe as Admiral Cain and his ruthless assistant Krell struggle to maintain complete secrecy over their plan. Their goal isn't merely to rid Caldaria of pirates; they have much loftier ambitions. Anyone with too much knowledge must die.
Mendell struggles to unravel the mystery before he, too, becomes a casualty of"The Caldarian Conflict".
"I wrote a book I'd enjoy reading," says Kalmbach. "Full of plot twists, complex characters, and a protagonist who sees the world differently from most people."
Reviewer Danielle Allen agrees. "Telling the story from the perspective of a monk gives the reader a unique viewpoint of the moral dilemmas that Mendell faces and a fresh angle on pirate novels in general…Characters' motivations and plot twists are slowly revealed throughout the novel, always keeping the reader engaged. The novel ends on a bit of a cliffhanger and I'll be eagerly awaiting the sequel!"
"The Caldarian Conflict" is available at Amazon.com, BN.com, CreateSpace.com, and other channels.
About the author:
Mike Kalmbach lives in southeast Minnesota and has a Master of Science degree in software engineering from the University of Minnesota. Moonlighting as a freelance editor, he has edited numerous full-length manuscripts as well as countless shorter works. He also leads the Rochester MN Writing Group and is a founding member of the Rochester Writers Collaborative.
MEDIA CONTACT:
Mike Kalmbach
Email: [email protected]
Book cover and author images available by request.
REVIEW COPIES AND INTERVIEWS AVAILABLE
###
---
Posted on August 5th, 2011
The Caldarian Conflict will be officially released on 9/19/2011.  To celebrate this achievement, my family and I will be hosting a book launch party.  Details are below!
So we can plan for food, please respond either in the comments below or on the Facebook invite.  Hope to see you there!
For those of you not in Rochester, a preorder button will soon be available on the right-hand side so you can get a copy of the book.
---