Site hacked, trying to recover
Posted on October 23rd, 2013
If you haven't visited recently, you may see that my site layout has changed. Unfortunately, my personal website was hacked and populated with ads for certain little blue pills and other enhancement drugs. This required several hours of attempting to remove the embedded code before I finally decided to start over with a fresh install. Luckily, all of my data is regularly backed up, so all of the posts remain intact.
I'm taking advantage of the situation to create a custom theme for the site. It's likely you'll see lots of changes over the next few days, so please bear with me. Thanks in advance!
If you're looking for information about the Rochester Writing Group, please email me at [email protected] Thanks!
---
Big, BIG news! Coffee & Books
Posted on January 18th, 2013
Big news! The Caldarian Conflict was selected for the Coffee & Books program at Dunn Brothers (currently there are only around 20 books in the program). Read on for a coupon promo!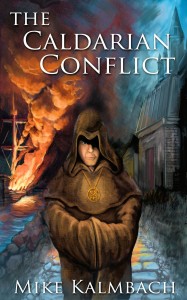 This is a very big deal–the top four books each quarter are displayed in all Dunn Bros locations. This could help The Caldarian Conflict find hundreds of new readers.
Why is this so important?
There's very little competition right now in the program, which helps increase my visibility
As a participating author, it's relatively easy for me to get in for readings and signing events.
Buying books gets you free coffee. What better deal is there than that?
To celebrate the inclusion of The Caldarian Conflict in the Coffee & Books program, I'm running a promo. The first 50 people to buy The Caldarian Conflict ebook will receive 20% off the book! Just use the coupon code "pirate" when you check out (without the quotes). Remember, this is only good for the first 50 customers!
Share this with your friends. The more people who buy The Caldarian Conflict, the better my chances are of the book arriving in the store!
Thanks everyone!
---
Review: The 10,000-Year Explosion by Gregory Cochran & Henry Harpending
Posted on October 21st, 2012
Overall, good read. They provide a compelling argument for why human evolution has continued throughout the past several thousand years, and identifies some of the selective pressures that continue to act on us today.
In addition, this book includes an extensive resource list for additional reading and data that supports their conclusions.
While I personally would have liked a little more meat in the identification of specific genes responsible for changes in human DNA, or the selection pressures the authors believe will shape humanity's future, this book is an accessible resource for armchair scientists.
Full disclosure: where did I obtain this book?
Purchased myself
To buy this yourself from Amazon, click on the image below!
Please note that I make a small percentage of the sales resulting from this link, but this did not influence my review.
---
Review: The Secret Underground – Natalie Bahm
Posted on October 12th, 2012
Intense, suspenseful novel for middle grade readers–and adults will enjoy it too! I had so much fun with this book, and didn't want to put it down, even for dinner!
What did I like? The mystery and suspense introduced by the tunnels, and the wonderful characterization of the main character, Ally, and her female friends. The Gauze Men made wonderful villains, and I loved the conflict surrounding the bank robberies, keeping secrets from parents, and early relationships.
My only issue is that many of the boy characters were difficult to remember–many of them, with the exception of Paul, Eric, and Jake, were pretty interchangeable. I would have liked to see more identifiable characteristics early on. That said, by the second two-thirds of the book, I completely hooked.
Can't wait to read another book by Ms. Bahm. Well done!
Full disclosure: where did I obtain this book?
Purchased myself
To buy this yourself from Amazon, click on the image below!
Please note that I make a small percentage of the sales resulting from this link, but this did not influence my review.
---
FREE Kindle ebook April 24-25 – Writing Advice for Teens: Creating Stories
Posted on April 24th, 2012
Writing Advice for Teens: Creating Stories is free on Amazon Kindle April 24-25. http://amzn.to/IwKima
Please share this with your friends!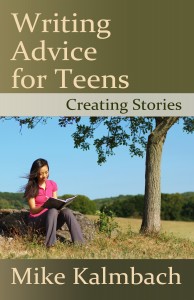 Don't have a Kindle? You can still read the electronic version on your computer. There's no DRM, so converting it to another version is a breeze with Calibre.
Please grab a free copy to help my Amazon ranking, which will eventually sell more books. Thanks everyone!
---
Announcing: Writing Advice for Teens: Creating Stories
Posted on March 18th, 2012
My next book, Writing Advice for Teens: Creating Stories, is now available for preorder from Amazon. I'm pretty excited!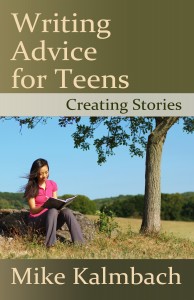 This book is the first in a series of non-fiction books designed to help teen writers through all the stages of writing, from creating stories to writing as a career. It's great for new writers of all ages, and is organized into an easy-to-read format with plenty of examples and exercises.
As well as accepting preorders through Amazon, I'm also looking for early reviewers who will read the book and write a review in time for its April 24 launch. Readers will receive a free PDF of the book, and as might be obvious, should not distribute the file to anyone else. Simply comment on this blog post, post a message on my Facebook Author page, or send me a tweet via Twitter (@mikekalmbach).
If you're on Goodreads, take a moment to add Writing Advice for Teens: Creating Stories to your to-read list.
Thanks for helping get a new book off the ground!
---
Book Cover for Into the Land of Iowah
Posted on November 15th, 2011
As I'm sure is not a surprise, I'm hard at work on another novel with the working title, Into the Land of Iowah. Here's the blurb:
Vagus, a wizard from the realm of Amishan, loses a battle and is banished to the most heinous land his enemy can think of: a corn field in the middle of present-day Iowa. In a land where all people know of magic is from the movies, he's convinced there's no worse place to be. With the help of a trucker named Bob, Vagus must find his way back home in time to rescue his friends.
It's intended to be a humorous fantasy novel in the vein of A Hitchhiker's Guide to the Galaxy and Terry Pratchett's novels.
While there is still a lot of work left to do on the novel, I was lucky enough to befriend a talented artist, Chris Osman.  He's created a cover concept for Into the Land of Iowah, and I think it's pretty awesome.  There's still time to make adjustments, so feel free to comment if there's something you think should change.  Of course, comments like "this is an awesome cover" and "I can't wait until it's ready" are also welcome. 

What do you think? I'd love to hear it!
---
Spyder by David Fingerman
Posted on November 5th, 2011
This book is hard to classify, but tantalizingly good.  Great read for mature readers–describes sex scenes, drug usage, and violence.
Premise:
A streetwise thug named Spyder struggles to overcome his drug addiction, while the world around him keeps trying to drag him back in.
Likes:
o Lots of plot twists that keep you guessing throughout the story
o As a drug addict, Spyder's an unlikely protagonist.  I found myself sympathizing with him because he took a hard view on all other addicts–thinking they were weaker/whinier than him.  Spyder had an outlook on life that I could respect, even as I disagreed with his choices.
o Eye-opening revelation for me on the difficulty of breaking out of the addiction cycle.  Excellent consideration on how hard it is to change one's base character.
o Spyder grows throughout the story, but also suffers relapses as events trigger instinctive reactions.
o Spyder's voice remains true to the character throughout the story.  There was definitely a feeling of "here's the way I am, whether you like it or not" that made me respect and enjoy the character.
Dislikes:
o Very few. I disagreed with some of Spyder's decisions, but that's because those weren't the choices *I* would make–it was my own bias that got in the way.  For his character, they were justifiable, even when the decisions led him to dangerous consequences.  And that part I liked: his bad decisions had realistic consequences for him.
I'd recommend this book to mature audiences who enjoy suspense, plot twists, dark humor, and unlikely heroes.
Full disclosure: where did I obtain this book?
Purchased myself
---
Free book today and tomorrow
Posted on October 29th, 2011
In celebration of my favorite holiday, I'm offering a coupon for a free ebook of The Caldarian Conflict.
Use coupon code FG33N at https://www.smashwords.com/books/view/84747 to download your copy for free.
Happy Halloween!
---
How to Best Support an Indie Author
Posted on October 5th, 2011
Did you just read an awesome indie book? Are you looking for ways to help the author out?
You've come to the right place.
What follows are several methods to help an indie author out.  This includes:
Buying the book (first for yourself, then as gifts for friends)
Telling your friends (and posting reviews)
Tagging the book to make it easier for people to find
While (perhaps obviously), I'm targeting this to my own fans, these strategies are general enough for any indie author. I'd expect the actual dollar values should be consistent for most indie authors as well.
Buy the book
Of course, the first and best way is to buy a copy of the author's book.  However, where you buy it is as important as your actual purchase.
Paperbacks:
Since I published through CreateSpace, I earn the most when people buy direct from them (about $4.50 per book from my $10.95 book).  Amazon falls in at a respectable $2.94.  However, when someone buys a copy from Barnes and Noble, I earn only $0.25 per book.
Buying the book as a gift is an excellent way to thank an author. That's part of the reason I offer signed copies through my site (check the right-hand panel)–it's an opportunity for fans to purchase a unique gift for themselves or their friends.  Since I include a free ebook with autographed paperbacks purchased through my site, you can buy a paperback as a gift and keep the ebook for yourself.
Giving the book as a gift offers you the opportunity to talk with others about the book, which helps get the word out for an indie author.
Ebooks:
As an indie author, Smashwords gives me the best return: about $2.21 per book.  Amazon is second, at about $2.03 a book, and Barnes and Noble gives me $1.94 per book.  Besides offering the best return, Smashwords also lets me run coupons as needed.  If I want to give a free copy to a book reviewer, all I have to do is generate a code and pass it along.
Lending an ebook to a friend also helps spread the word about a good book, so take advantage of this opportunity.  Which leads us to the next point:
Tell your friends
Think about the last book you bought.  Why did you buy it?
Chances are pretty good that it's because a friend recommended it.
Word of mouth advertising is awesome.  If you can't stop raving about the plot twists in The Caldarian Conflict, (as a completely random and unbiased example), people take notice.
If you're part of a book group, suggest that the group read a book by the indie author.  Note: only do this if you'd give the book a 4- or 5-star review.  And make sure the book is free of typos.  When the average reader spots typo after typo, the book probably wasn't ready to be released.
Did I just mention reviews?
That's another great way to help out an indie author.  Thoughtful reviews are more important than 5-star reviews (though as an indie author, I always love to receive a 5-star review).  That said, when someone checks out a book's rating on Amazon, they're more likely to purchase a book that has several thoughtful reviews than several that say: "This book is teh best!!!" (typo intentional)
When reviewing, do explain what you liked and who might be most likely to enjoy the book.  Try to avoid spoilers where possible.  Post it everywhere the book is sold, and especially on reader communities like Goodreads or LibraryThing.
Once you've written a review, tell people on Facebook and Twitter about the book.  When they know you wrote the review, your friends or followers are more likely to at least look at the book to see whether it's a good match.
While we're talking about Facebook and Twitter, definitely become a fan of the author and follow their tweets.  When you see something interesting from the author, pass it along to your friends so the author can grow followers and potentially connect with other readers.
Tag the book
What is tagging?
Tagging is a method of adding keywords to a book so that it shows up in search results.  The more people that agree with a particular tag, the higher the placement of the book in the search results.
Tags can usually be found on a product's Amazon page.  Other sites use tagging sometimes, but Amazon is the most widely used.  Simply search for "tag" on the page, and you should find it.
If there's nothing there, add tags related to the book.  For example, some of the tags currently used for The Caldarian Conflict include pirates, monks, and corrupt government. If you have read the book, select the check box for those you agree with.  If you happen to think of others that aren't listed, definitely add them.  The author will certainly appreciate it when others find (and hopefully purchase) their book.
If you've already read my book, please go to the Amazon page and help me out with a review and adding some tags.  I'd really appreciate it.
What other ways can you think of to help an indie author out?  What did I miss?
---